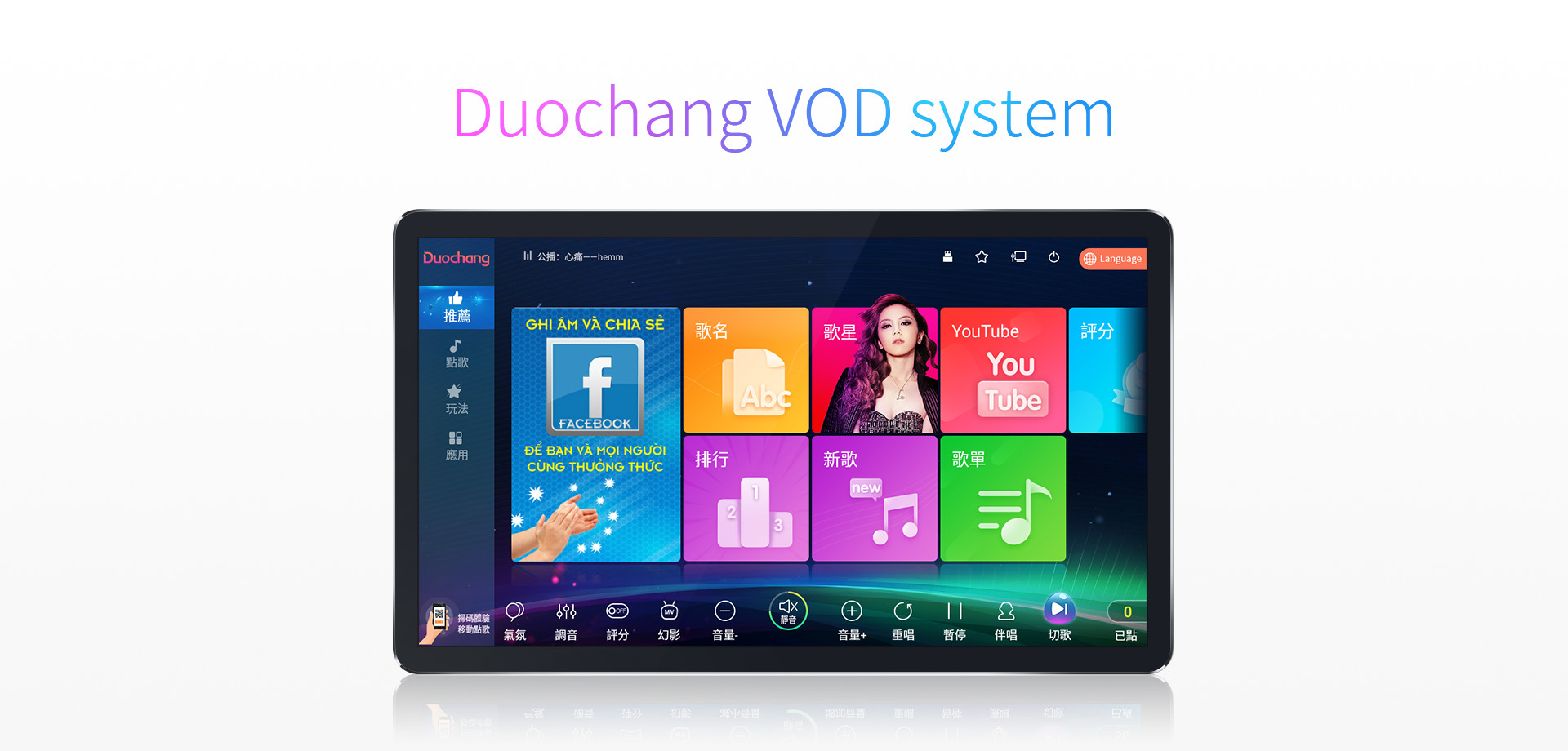 Language interfaces include Simplified Chinese, Traditional Chinese, English, Vietnamese, Malay, and Indonesian.
Languages from major Southeast Asian countries and other common languages worldwide will be added gradually.
Choose and switch between different languages directly on any page of the main interface.

Six different song searching methods are available: phonetic transcription, acronym, handwritten,
English, Vietnamese, and numbering system.More song searching algorithms will be progressively added.
We will also expand our services to more and more countries.
Our system relies on independent data centers overseas in order
to provide faster response to users.We've expanded the scope
of our distribution network to worldwide,so as to ensure the
provision of the high-speed downloads.On top of these, we
keep our foreign and domestic music libraries synchronized and
updated at any times.
With a press of a button and a QR code scan, you can share your
happy moments on Facebook and WeChat with your friends, and
keep your timeline stories updated.Supports on more social
media platforms will be added gradually.
Supports MIDI Type 1.
Our app allows you to batch-import songs from your USB by just a single click,
identify and fill the information of audio files automatically.
Add the MIDI subscript automatically and make it easy to look up.
Support built-in lyrics and external TXT lyrics.
Our app automatically applies a matching video background.

Uploads and plays songs from smartphones to the VOD, and solves the urgent problems of the lack of songs.
Automatically removes backing vocals, loads lyrics, and dynamic video background.
Supports both KuGoo Music and Netease Cloud Music app.
Supports a variety of control methods to provide users with an optimal cont-
rol experience.Duochang HD is available in AppStore.Duochang is available
in AppStore & Google Play.Conventional music playing and operational
methods, such as the use of infrared controller and basic song selection
functions, are still retained for users who prefer using them, and the multilin-
gual operational interface is also supported.
A separate tablet is provided for use with the song selection system, which, when paired, provides a more comfortable alternative
for song selection.After the pairing, the display interface on both the wireless screen and the tablet will be synchronized,
so the latter can be used in place of the former.
Economical and easy to use.A 5G WIFI internet connection is required to operate the wireless screen.